How to Choose the Ultimate Shades
When sunglasses were invented in 12th Century China, they were not made to block the rays of the sun or to make a fashion statement, but to conceal the expressions of a Chinese judge in court.1 It was not until the 20th century that the modern sunglasses we know and love came to be. In 1929, Sam Foster, founder of the Foster Grant company, sold the first pair of sunglasses on the Boardwalk in Atlantic City, NJ.2
From the very beginning, round lenses dominated the mass market- more notably, the '60s oversized specs from the hippie era. Better yet, the pair of sunglasses John Lennon wore in the film How I Won the War. Then came Audrey Hepburn with her distinct cat-eye sunglasses.
With so many iconic sunglasses to choose from, how will you decide whether to channel your inner Kurt Cobain, or if Jackie O is right for you instead?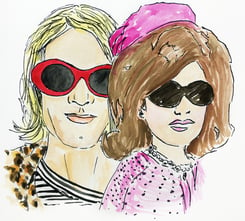 What makes picking a pair of sunglasses even harder is that optical shops seem to offer an almost endless supply of options. The number of colors, shapes, and styles seem limitless; however, your time is not. While you can always take the approach of tediously trying on every pair you see, narrowing it down a bit will save you both time and some not-so-great looks in the mirror.

According to the Vision Council3, finding the right pair of frames requires 3-point criteria:


Eye and frame color coordination
Frame to face shape contrast
Scaling a frame size to the face size

However, we're adding one more tip to further limit your best options: purpose. Aside from protecting your eyes, are you about to head to the beach to soak up the sun, bro-out at a tailgate, stroll to lunch on a sunny afternoon, or driving around doing errands? We're here to save you from making your entrance at a Michelin Star restaurant looking like Randy "Macho Man" Savage (even if his sunglasses are UV protected!). Instead, think Karl Lagerfeld!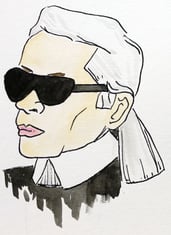 With summer starting to make its mark, our moods are up, shorts have emerged from storage, and most importantly (in our opinion), UV rays are also on the prowl. Excessive exposure to Ultra Violet (UV) radiation puts you at risk for a myriad of health issues. Even though sunlight has plenty of redeeming qualities, and even though only a small portion of rays are considered UV, they are indeed dangerous for our skin, eyes, and other aspects of our health. UV rays can ultimately damage important structures of our eye such as the macula, cornea, and the lens. As a result, conditions like macular degeneration, cataracts, skin cancer and pterygium can arise.

Sunglasses with 100% UV protection are just one way to help keep your eyes healthy, and we promise you can stay stylish at the same time! So how to choose? It all depends on your lifestyle. 


The Beach Bum
For those who are planning to soak up the sun this Summer, polarized lenses might be a sound investment. Because they're coated with a specialized chemical film, they help reduce glare from the sun and reflections off of water while you're at the beach!

The Stylish Urbanite
But what if the beach just isn't your thing? That the idea of soft sand between your toes just can't beat a good pair of Louboutins? Wearing sunglasses in the city is necessary on certain days – skyscrapers can't block all the rays, and they do nothing for glare! Funky geometric, Wayfarers, and cat-eye lenses are all great frames for the average, yet chic, city dweller. They tend to fit most face shapes, yet still offer a stylistic edge. Just make sure your frames fully protect your eyes from UV rays!

The Sport Enthusiast
Putting on a pair of cat-eye sunnies might not be the best idea when you're about to walk into a game of beach volleyball. What you really need is a pair of sport sunglasses, which offer a fitted, lightweight style perfect for those on the run (literally). Sport sunglasses typically come with nose pads and temple pieces that are anti-slip, adding that extra grip when you sweat (we prefer the term "glisten"). What's more, pick out a polarized, UV protected pair for minimal squinting as you spike that game-winning point.
Sources:
1 "Origins and History of Sunglasses." Glasses History. Glasses History, n.d. Web. 08 June 2016.
2 "Origins and History of Sunglasses." Glasses History. Glasses History, n.d. Web. 08 June 2016.
3 "Choosing Glasses and Sunglasses." For Fashion. The Vision Council, n.d. Web. 06 June 2016.
4 "How Can UV Rays Damage Your Eyes?" Prevent Blindness: A Lifetime of Healthy Vision. N.p., 2016. Web. 06 June 2016.
---